Douglas R. Pearson
Vice President and Dean of Students for Macon, B.A., M.Ed., Ph.D.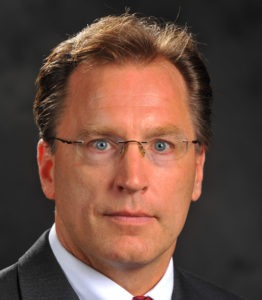 Doug Pearson earned a B.A. degree in sociology and a M.Ed. degree in counseling and human development at St. Lawrence University, New York, and a doctorate of philosophy degree in higher education at Florida State University. He is the author of several articles related to legal issues in higher education, and his dissertation on "Negligent Liability in Higher Education" was selected by the Education Law Association and the Association for Student Judicial Affairs for the dissertation of the year. 
Dr. Pearson has spent the last 19 years working in the student affairs field. He started out in residence life services in 1987 at State University of New York at Potsdam and later at State University of New York at Geneseo.   
He moved to Florida State University and continued to work in student services, eventually becoming the assistant dean of students. During this time, he also served as the assistant director and judicial officer.  He later became the director for the Office of Student Rights and Responsibilities. 
From 1999-2004, he served as the associate vice president for Student Affairs and dean of students at the University of West Florida (UWF) in Pensacola. He also co-founded a Student Affairs track for master's-level course work and served as part of the faculty for that program in the College of Education. 
Dr. Pearson has been the vice president and dean of students at Mercer University since 2004. He provides oversight to Campus Life, Career Services, Counseling and Psychological Services, Disability Support Services, Housing and Residence Life, Recreational Sports and Wellness, the Federal TRIO programs and Judicial Education. He also is the advisor for the Student Government Association and chair of the Board of Appropriations and Student Awards Committee. 
Dr. Pearson was selected twice as the Administrator of the Year (2004-2005 and 2007-2008) by Mercer students and serves as an advisory board member of Student Affairs Today, a national publication. He also is a visiting professor in the Tift School of Education and active on various community boards.