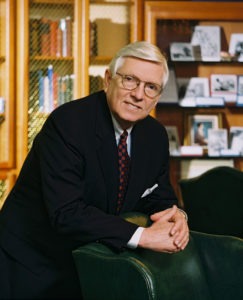 R. Kirby Godsey served as Mercer University's 17th president and CEO from July 1, 1979, until June 30, 2006. He served as president longer than any of his predecessors. Under Dr. Godsey's leadership, Mercer grew to be among the largest Baptist-affiliated universities in the world and the only college or university of its size in the country to offer such diverse programs as liberal arts, business, education, engineering, pharmacy, law, theology, nursing, medicine and music. At the time of his retirement as president, the University enrolled more than 7,300 students, employed more than 1,300 faculty and staff, managed a budget of more than $175 million, and had an endowment of close to $200 million, with more than $200 million expected to be received in the near future from planned gifts.
In addition to the existing School of Law, the College of Liberal Arts and Sciences and Southern School of Pharmacy, Dr. Godsey worked to establish the School of Medicine, Stetson-Hatcher School of Business, the School of Engineering, Tift College of Education, James and Carolyn McAfee School of Theology, Townsend School of Music, Mercer University Press, the Executive Forum and Mercer Engineering Research Center (MERC) as well as lead the merger with Georgia Baptist College of Nursing. He also led the University to form partnerships with Piedmont Healthcare of Atlanta, Memorial Health University Center in Savannah, the Medical Center of Central Georgia in Macon, as well as the Warner Robins Air Logistics Complex. 
Prior to being named president of Mercer, Dr. Godsey served as executive vice president and was dean of the University's College of Liberal Arts. He previously served as vice president and dean of Averett College in Virginia, was a Danforth Associate with the Danforth Foundation and served as professor of philosophy and religion at Judson College in Alabama. He earned his bachelor's degree in history and religion from Samford University, his master of divinity and doctor of theology degrees from New Orleans Baptist Theological Seminary, his master of arts in philosophy from the University of Alabama and his Ph.D. in philosophy from Tulane University. He holds honorary doctor of humane letters degrees from the University of South Carolina, Samford University and Campbell University, and an honorary doctor of laws from Averett College in Virginia. 
Dr. Godsey is the author of When We Talk About God, Let's Be Honest, The Courage Factor and Centering Our Souls and has written numerous articles for professional journals. He is a frequent lecturer and a consultant on leadership and higher education administration and serves on a number of civic and professional boards and committees. He is a member of the Executive Council of the College Commission for the Southern Association of Colleges and Schools and serves on the Executive Committee of the National Association of Independent Colleges and Universities. 
In 1998, 2000, 2002 and 2003, Dr. Godsey was named as one of the 100 most influential Georgians by Georgia Trend Magazine. In 2002, he was named the Council for Advancement and Support of Education (CASE) III Chief Executive Officer of the Year. The Macon Chamber of Commerce recognized him in 2003 as the Macon Citizen of the Year. In 2006, he was awarded the Salvation Army "Others" Award, the highest honor bestowed by that organization. And, in 2006, both the Georgia Senate and House of Representatives honored him their chambers for his contributions to Mercer, higher education and the communities served by the University. 
At its April 2006 meeting, the Mercer University Board of Trustees voted to name the historic administration building on the Macon campus as the R. Kirby Godsey Administration Building. At that same meeting, the Trustees named Dr. Godsey as chancellor and university professor. 
Dr. Godsey is a member of First Baptist Church of Christ in Macon. He and his wife, Joan Stockstill Godsey, have four adult children, Raleigh, Hunter, Erica and Stephanie; and five grandchildren. 
---
Contact the Chancellor
R. Kirby Godsey
1501 Mercer University Drive
Macon, Georgia 31207
(478) 330-5612
(478) 301-5752 (FAX)