Julie Petherbridge
Dean of the School of Business, Ph.D., CPA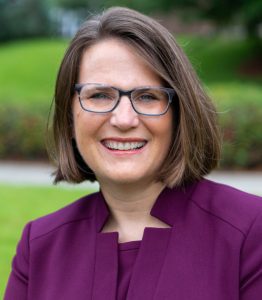 Dr. Julie Petherbridge became dean of Mercer University's Stetson-Hatcher School of Business on July 6, 2021. She also serves as associate professor of accountancy. Prior to her appointment as dean, she served as interim dean and associate dean of graduate programs.
Dr. Petherbridge earned her bachelor's degree in accounting from Clayton State University in 1993 and has been a licensed Certified Public Accountant in Georgia since 1995. She worked full-time in public accounting until 2001, when she decided to transition to academia while continuing to practice. She earned her M.P.A. in 2002 and Ph.D. in 2010, both from Georgia State University. Her dissertation topic involved auditor's behavior in the Public Company Accounting Oversight Board inspection process.
Her current research interests focus on public policy of accounting regulations, internal auditing, nonprofit organizations and professional biases. She is published in the Journal of Accounting and Public Policy, The Southern Business and Economic Journal, the Academy of Accounting and Financial Studies Journal and others, and she has continued to stay connected with the accounting profession through several professional organizations.