Atlanta Research Conference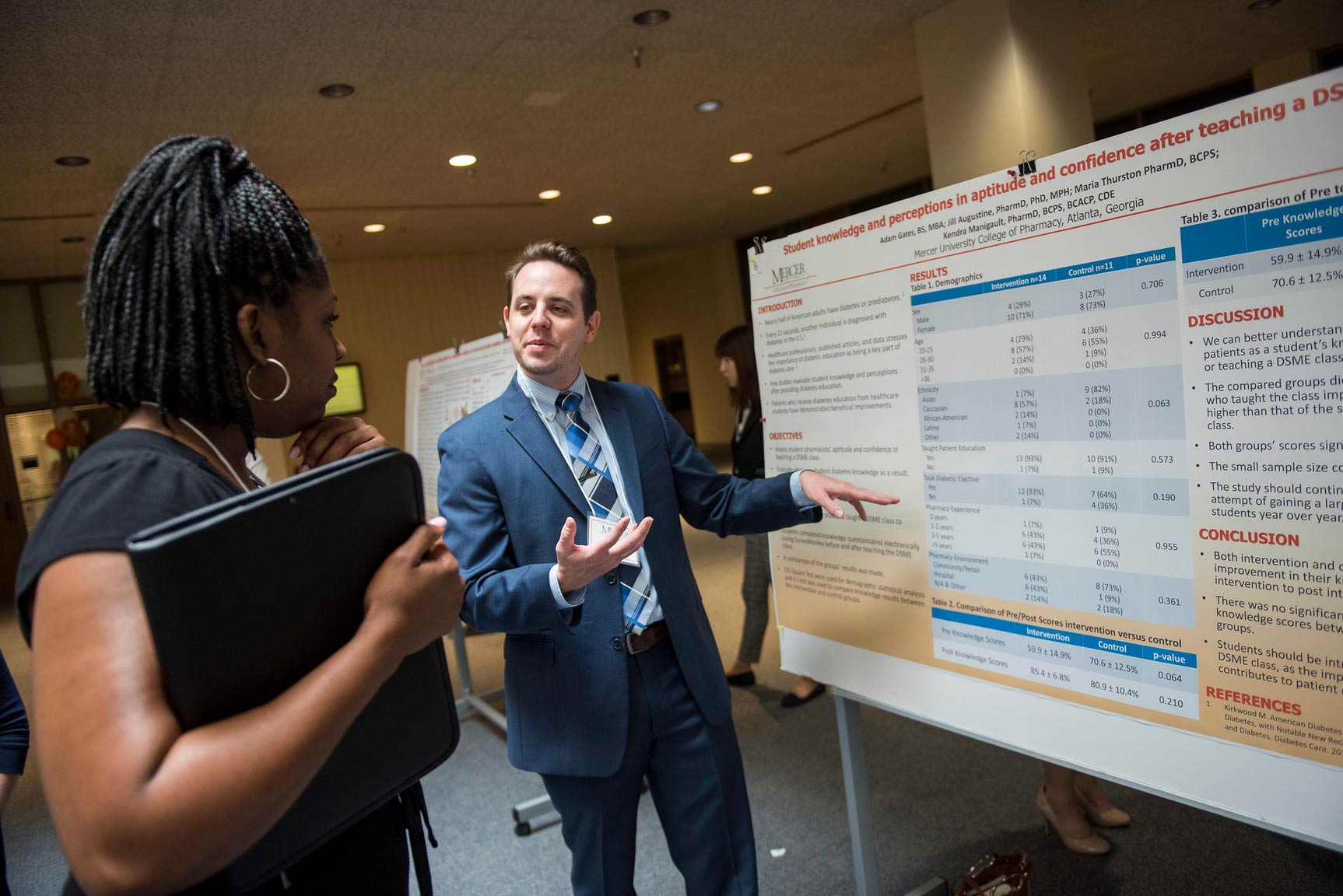 Mercer University's Atlanta Research Conference began in 2011 as a "desire to encourage and inspire students and faculty to become more involved in research activities as well as provide a venue where they can share their findings."
The thirteenth annual Atlanta & Regional Academic Centers Research Conference will take place on Saturday, April 15 2023, from 10 a.m. to 3 p.m., in the Atlanta Administration and Conference Center building on Mercer's Atlanta campus.
The conference will showcase work by students and faculty representing all colleges across Mercer's Atlanta, Macon, Douglas County, and Henry County locations.
For more information about Mercer's Atlanta Research Conference, contact Dr. Cameron Miller, Associate Professor of Psychology and Atlanta Research Conference Chair, at (678) 547-6009 or miller_c@mercer.edu.
---
Proposal Submissions
Proposals for the 2023 Atlanta and Regional Academic Centers Research Conference are open and will be accepted until Friday, February 24, 2023 at 11:59 p.m.
Proposal Applications are currently being accepted for: poster presentations, 15-minute talks, and 30-minute talks.
A complete proposal submission includes the following:
Name and email of presenter
Name of co-author (if applicable)
Title and abstract of submission
Presenter's school/college affiliation (department information requested where appropriate)
Click here to download the 2023 Conference Program >
Click here to see Frequently Asked Questions about the Conference and Poster/Lecture Presentations >
Important conference dates:
Friday, February 24, 2023 – Conference submission link closes
Friday, March 17, 2023 – Accepted proposals notified
Saturday, April 15, 2023  – Atlanta & Regional Academic Centers Research Conference
---
Poster Guidelines
General aim and format:
A poster is a graphically based approach to presenting research. When presenting with a poster, aim to use the poster as a means for generating active discussion of the research.
Limit the text to about one-fourth of the poster space, and use visuals such as graphs, photographs, schematics, maps, etc. to tell your "story."
Design and layout specifications:
The entire poster will be mounted on a 40″ x 60″ foam-core board. The foam board will be provided on the day of the conference when you arrive with your poster. The poster does not necessarily have to fill the entire working area (36″ X 48″).
The board must be oriented in the landscape position (long dimension is horizontal).
A banner displaying your poster title, name, and department (or class, if appropriate) should be positioned at the top-center of the board.
Make it obvious to the viewer how to progressively view the poster. The poster generally should read from left to right, and top to bottom. Numbering the individuals panels, or connecting them with arrows is a standard guidance system.
Tri-fold poster boards are not acceptable. Foam-core boards will be provided by the university on the day of the conference to hang your poster on during your designated poster session.
---
Conference Planning Committee
College of Professional Advancement
Dr. Cameron Miller, Chair
Prof. Ming Hii
Dr. Awatef Ben Ramadan
Dr. Stephen Ruegger
Dr. Suneetha Manyam
College of Pharmacy
Dr. Nader Moniri
College of Health Professions
Prof. Erin Lepp
Tift College of Education
Dr. Robert Helfenbein
Stetson and Hatcher School of Business
Arnab Nayak
Swilley Library
Florence Tang
Georgia Baptist College of Nursing
Dr. Sonique Sailsman