Official University Marks
Mercer Wordmark
The Mercer wordmark serves as the University's primary logo and is considered the "master brand." It is to be used for all institutional branding, marketing, communications and promotional purposes.
When using the Mercer wordmark, always use an approved logo file. Never try to recreate the logo. The mark may be resized, but always constrain proportions by locking the aspect ratio, so the height and width are scaled together. The orange rule that appears under "Mercer University" is part of the mark and must not be cropped, drawn separately from the type, or left off the mark. It must be scaled in proportion to the rest of the wordmark.
The two-color wordmark – black type with the Mercer orange rule – is the preferred version, but it may also be printed in all black or reversed out of any other color.

Click the image above to download
Improper Usage
There should always be a buffer zone of at least half the height of the "E" in "Mercer" surrounding the Mercer wordmark — most importantly around the rule — with no type nor graphics appearing in the zone. No part of the wordmark should bleed off the page or touch any other element.

Please do not:
Replace the words "Mercer University" in the wordmark with any other words.
Redesign, redraw, modify, distort or alter the proportions of the mark.
Rotate or render the mark three-dimensionally.
Add images or any other new elements to the mark.
Replace the approved typeface with any other typeface.
Enclose the mark in a shape or combine it with other design elements or effects.
Modify the size or position relationship of any element within the mark.




University Seal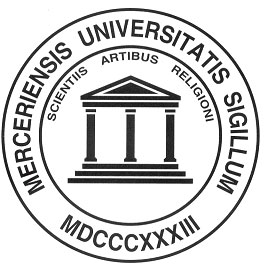 The University seal is not to be used for general branding, marketing, communications and promotional purposes. Its use is restricted to official documents, publications and materials associated with the Office of the President and Board of Trustees, or for purposes approved by the President or the Board of Trustees. Examples of approved uses include:
Diplomas, transcripts, official certificates.
Printed programs, banners and other materials associated with commencements and convocations.
University catalogs.
Campus and building identification signage (not interior signage).
Architectural features (i.e., Jesse Mercer Plaza).
Certain jewelry and merchandise that is licensed through the University.
Award plaques presented on behalf of the Board of Trustees or Office of the President.