About the President
William D. Underwood, J.D.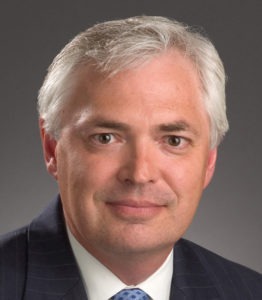 President William D. Underwood has led Mercer during a period of dynamic growth and development for the University. Since his appointment as Mercer's 18th president in 2006, enrollment has increased by over 25 percent to more than 9,000 students. Mercer has launched second and third medical school campuses (Savannah and Columbus), initiated a master's-level physician assistant program and a doctoral-level physical therapy program, and added Ph.D. programs in Clinical Psychology, Nursing, Counseling, Community Medicine, Educational Leadership, and Curriculum and Instruction.
U.S. News & World Report today ranks Mercer among the top tier of National Research Universities. Reflecting an increased emphasis on research, Mercer has been reclassified as a research university with high levels of research activity (R2) by the Carnegie Foundation. Over the past decade, the number of Ph.D. students has increased sevenfold, from fewer than 35 to more than 250, while the amount of annual externally funded research expenditures has grown to more than $50 million. In addition to increased levels of funding from the National Institutes of Health and the National Science Foundation, Mercer scientists for the first time were funded as eminent cancer scientists by the Georgia Cancer Coalition, while other Mercer scientists are now receiving funding to support their research through the Georgia Research Alliance, a consortium of Georgia's leading research universities that admitted Mercer to membership in 2014. Mercer has been named among the 35 leading institutions nationally for undergraduate research. In 2015 Phi Beta Kappa, the nation's oldest and most prestigious honor society, awarded Mercer a chapter, placing the University in a cohort of the nation's most respected academic institutions.
The University has intensified its longstanding commitment to service-learning and community engagement under President Underwood's leadership. The College Hill Corridor initiative – which is revitalizing a two-mile area between Mercer's Macon campus and downtown – is supported by more than $7.5 million in funding from the John S. and James L. Knight Foundation and has won international awards for community redevelopment and has leveraged more than $200 million in public-private investment. The groundbreaking Mercer On Mission program, launched in 2007, has been recognized by the Clinton Global Initiative as "an exemplary approach to addressing a specific global challenge." Mercer earned the highest federal recognition for community engagement by the Corporation for National and Community Service – the President's Higher Education Community Service Honor Roll. Mercer became the first university in Georgia to receive the Carnegie Foundation's designation for "Curricular Engagement and Outreach and Partnerships."
During President Underwood's tenure, student achievement levels have reached new highs.  During the 2020-21 academic year, five students won prestigious Fulbright Scholarships, three engineering students were named Goldwater Scholars, the most of any engineering school in the country, 12 students received appointments to the Peace Corps, prompting that organization to name Mercer among the five highest producers among Peace Corps prep sites, and 36 students were admitted to Phi Beta Kappa.  One student was named a Rhodes Scholar finalist, another a finalist for the Truman Scholarship, and nearly 75 percent of the entering class of 2014 remained to graduate from Mercer – among the highest matriculation to graduation retention rates in the Southeast.
Under President Underwood's leadership, Mercer resumed competition in intercollegiate football in 2013 after a 72-year hiatus. During the inaugural season, Mercer established a new NCAA Division I record for wins by a start-up program by going 10-2. Mercer was admitted to membership in one of the oldest and most prestigious intercollegiate athletic associations when it became a member of the Southern Conference in 2014.
During his tenure as president, the University has raised over $500 million in gifts. The endowment has tripled, to more than $500 million. Facilities projects totaling more than $300 million have been completed during President Underwood's tenure, including the Spearman C. Godsey Science Center, the Stembridge Center for Student Success, the Hoskins Medical Education and Research Center, the Center for Clinical Research, the Tattnall Square Center for the Arts, the McDuffie Center for Strings, the Myers Admissions and Welcome Center, Drake Fieldhouse, Five Star Stadium, OrthoGeorgia Park, the Center for Collaborative Journalism, Legacy Residence Hall, the Engineering and Science Center, a new intramural complex, medical education and research facilities in Columbus and Savannah, and loft housing to accommodate more than 900 undergraduate and 150 graduate students. The University has also made significant investments that have contributed to a rapidly revitalizing Downtown Macon. It has repurposed the former Georgia Music Hall of Fame and the Thomas Jefferson Building into clinical facilities for the Mercer School of Medicine, renovated a historic Second Street building to house the McEachern Art Center, and restored the iconic Capricorn Sound Studios as Mercer Music at Capricorn.
In 2019, the 100 Black Men of Macon-Middle Georgia presented President Underwood with the Sam Hart, Sr. Community Impact Award, and in 2013 the Greater Macon Chamber of Commerce honored him with its Citizen of the Year Award in recognition of his service to the community. The Macon Telegraph in 2016 named him as its Middle Georgian of the Year. Georgia Trend magazine has named him among the 100 Most Influential Georgians for 10 consecutive years, from 2013-2022. He was named in 2014 as recipient of the Leadership Character Award by the Greenleaf Center for Servant Leadership and has served as a member of the NCAA Division I Presidential Advisory Group and as Chair of the Southern Conference President's Council.
Prior to joining Mercer, President Underwood served at Baylor University as interim president and held the prestigious Leon Jaworski Chair at the Baylor School of Law. President Underwood is an accomplished educator and scholar. He was designated a Master Teacher at Baylor in recognition of extraordinary classroom teaching over an extended period. In 2008, the Baylor Alumni Association presented him with its W.R. White Distinguished Service Award.
An elected member of the American Law Institute and the American Bar Foundation, President Underwood was awarded the J.D. degree summa cum laude by the University of Illinois College of Law in 1985, where he graduated as class salutatorian and was an editor of the University of Illinois Law Review. Following graduation, he clerked for the Honorable Sam D. Johnson of the United States Court of Appeals for the Fifth Circuit, prior to practicing law with the Carrington, Coleman law firm in Dallas. He and his spouse Lesli have been married for 40 years. They are the proud parents of two children, Jessica, who is an attorney practicing trial law in Texas, and William, who is a Ph.D. student studying the philosophy of religion at the University of Chicago.