James S. Netherton
Executive Vice President for Administration and Finance, Ph.D.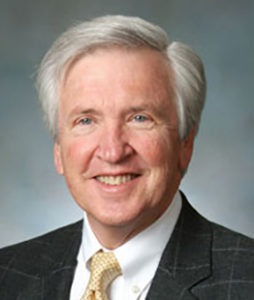 Dr. James S. Netherton has served as Mercer's Executive Vice President for Administration and Finance since Oct. 1, 2007, coming to Mercer from the presidency of Carson-Newman College in Jefferson City, Tenn. As Executive Vice President, Dr. Netherton oversees the treasurer's office, compensation and benefits, human resources, budget and analysis, information technology, physical plant, auxiliary services, the Mercer Engineering Research Center, health, safety and compliance, intercollegiate athletics and the Mercer Police Department.  
Prior to his seven-year term as President at Carson-Newman, Dr. Netherton served for four years as Provost at Samford University in Birmingham, Ala. In 1981, Dr. Netherton was appointed Executive Assistant to the President at Baylor University and joined its faculty, teaching in mathematics and computer science. He subsequently served as Vice President for Information Systems and Vice President for Executive Affairs. He was appointed Senior Vice President and Chief Operating Officer in January 1988 and served in that capacity until joining Samford in 1996.  
Dr. Netherton earned his bachelor of science degree in mathematics from the University of Mississippi in 1969, graduating summa cum laude and completing the University Scholars program. He went on to the University of Virginia on a National Defense Education Fellowship and earned his Ph.D. in 1973. He began his professional career teaching in the Department of Mathematics and Computer Science at what is now Armstrong-Atlantic State University in Savannah. 
---
Contact Dr. James Netherton
(478) 301-2710 
netherton_js@mercer.edu