Jeffrey A. Waldrop
Dean of the University Libraries, B.S., M.L.I.S., Th.M., M.Div., Ph.D.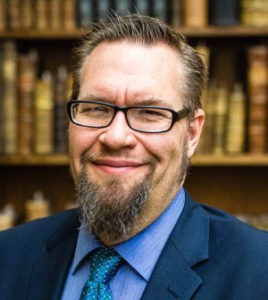 Dr.  Jeffrey A. Waldrop became dean of the University Libraries in 2019.
Before coming to Mercer, Dr. Waldrop served at the David Allan Hubbard Library at Fuller Theological Seminary in Pasadena, California. He held various leadership positions there since 2007, becoming director of the library in 2015. He also served as associate provost and assistant professor of church history at Fuller. Prior to joining Fuller, he served as library circulation supervisor at Golden Gate Baptist Theological Seminary Library in Mill Valley, California.
Dr. Waldrop earned his Ph.D. in church history and theology from Fuller in 2012. He also holds a Master of Library and Information Science degree from San Jose State University, Master of Theology and Master of Divinity degrees from Golden Gate Seminary, and a B.S. from LeTourneau University in Longview, Texas. He has held faculty positions at Nepal Theological Academy, Colorado Christian University and Golden Gate Seminary.
A member of the nominating committee for the American Theological Library Association board of directors and the American Library Association, Dr. Waldrop has written numerous articles and essays for theological and church history publications. He also is author of the book The Emergence of Religious Toleration in 18thCentury New England: Congregationalists, Baptists, and the Contribution of John Callender.