Anita Olson Gustafson
Dean of the College of Liberal Arts, B.A., M.A., Ph.D.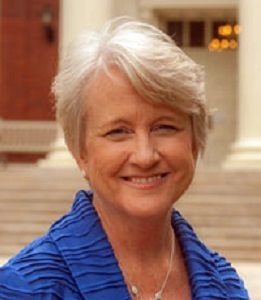 Former Presbyterian College historian and academic administrator Dr. Anita Olson Gustafson became dean of the College of Liberal Arts, the institution's oldest and largest academic unit, on July 1, 2016. 
In addition to serving as professor of history at Presbyterian College since 1997, Dr. Gustafson also held terms as interim provost from 2010-2012, interim dean of academic programs from 2005-2007 and chair of the history department from 2000-2004. 
During her tenure at Presbyterian, Dr. Gustafson served on and chaired a number of committees, led several special academic and administrative initiatives and was the College's accreditation liaison with the Southern Association of Colleges and Schools Commission on Colleges. She was named Presbyterian's Professor of the Year in 2007 and received the Excellence in Teaching Award from South Carolina Independent Colleges and Universities, also in 2007. Her scholarship focuses on Swedish-American history. She has had numerous articles published in professional journals and publications and is a frequent presenter at national academic conferences. 
A native of Fort Lauderdale, Florida, Dr. Gustafson graduated with honors from North Park University in Chicago. She earned her Master of Arts and Ph.D. degrees in American history from Northwestern University.